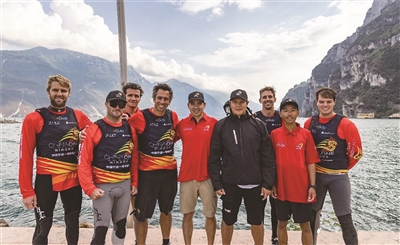 Members of ChinaOne Ningbo sailing team (photo by Liu Jiao & Zheng Junzhi)
  On September 4th, the M32 Catamaran European Championships 2022 was done and dusted on Lake Garda, Italy. After 15 races in 3 days, ChinaOne Ningbo sailing team took the bronze, while Team Bliksem (Netherlands) won the title and the defending champions – Team Vitamina Veloce (Italy) – finished runner-up.
  当地时间9月4日,2022年M32级双体帆船欧洲锦标赛在意大利加尔达湖落幕。经过3天15轮激烈角逐,中国宁波一号帆船队斩获季军,冠军和亚军分别被荷兰队和上届欧锦赛冠军意大利队获得。
  It is the first return of ChinaOne Ningbo to the M32 World Championship (MWC) after being crowned champions in 2018.
  这次比赛,是中国宁波一号帆船队在2018年夺得M32世锦赛冠军之后,首次回归M32级双体帆船国际赛场。
  Philip Sohmen, grandson of shipping magnate Sir Yue-Kong Pao and co-founder of the sailing team, arrived at the venue to cheer for the fleet.
  此次比赛,中国宁波一号帆船队联合创始人包文骏先生亲临意大利比赛现场,为船队加油助威。
  ChinaOne Ningbo scored 49 points to secure the bronze medal after 15 races. "It's a great honor to represent ChinaOne Ningbo, a fleet that has made outstanding achievements at the M32, which is also a spur for every crew member. Unfortunately, we missed out on the silver medal by a single point this time, but it's exactly where the charm of the sport lies. Things may change in an instant, and what you should do is go all out." commented the skipper PJ Postma.
  15轮比赛,中国宁波一号帆船队共积49分,获第三名。船长彼得·波斯特玛表示:"很荣幸能代表中国宁波一号参赛,这支队伍曾在M32赛场取得优异成绩,这对每一位团队成员都是一种鞭策。这次虽然以一分之差憾失银牌,但这就是帆船竞技的魅力,战局瞬息万变,你永远要拼尽全力直到最后一刻。"
  What's also worth noting is the fact that there is a 20-year-old Chinese sailor in the fleet – Su Yikang. Born in Nanjing, Jiangsu Province, east China, Su started to learn sailing at the age of 8. He has represented China four times in the Topper World Championships and made the podium three times.
  值得一提的是,这次船队中出现了一个来自中国的年轻面孔——苏逸康,今年20岁的他出生于江苏南京,8岁开始学习帆船,曾四次代表中国参加Topper世界锦标赛,并三次登上领奖台。
  As a co-host city and the venue for the sailing competitions of the 19th Asian Games in September 2023, Ningbo has bolstered the sailing industry. Against this backdrop, ChinaOne Ningbo has set out a range of plans to play a part in building Ningbo into a maritime hub.
  第十九届亚运会将于明年9月开幕,作为亚运会帆船项目的举办城市,宁波正积极发展帆船这一滨海体育休闲产业。在这一大背景下,中国宁波一号帆船队制定了一系列计划,助力宁波海洋中心城市建设。
  "Named after the coastal city, ChinaOne Ningbo will continue to serve as a bridge for sailing cultural exchange between China and the rest of the world. Through selecting talented sailors for training and competition overseas, we expect to enhance communication and take the top competitive experiences and training methods to Ningbo, east China's Zhejiang province." remarked Philip.
  包文骏表示:"中国宁波一号帆船队作为以宁波城市命名的帆船队伍,将继续做好帆船文化国际交流的纽带,通过后备船员选拔,输送中国船员到海外参与合训与比赛,促进帆船文化的国际交流,将世界顶级的竞赛经验和训练体系,带回中国宁波。"
  Reporter: Dai Bin
  Correspondents: Liu Jiao, Zheng Junzhi
  Translator: Zhou Shiyi (Intern)
  Proofreaders: PuYang Rong, Zhang Dongjing, Jason Mowbray